Q1 2019 Overview
Q1 is an example of why investing can be hard. After the sharp sell-off in Q4, if you had told us that US and European data would continue to slow (with Germany looking recession-like), China only showing slim chances of a recovery and the Brexit deadlock remaining in place, we would have been pretty pessimistic for equity market returns for 2019. In fact, this turned out to be the best first quarter for equity markets since 1998 with the FTSE All Country World index rising by 9.7% in sterling terms. Sometimes, even if you know what is going to happen next in the global economy it won't help you much timing markets.
Why have markets started the year so strongly? One argument is that equity markets are forward looking so they are telling you that a pick-up in economic activity in the second half of the year could occur. Fair enough because, as we discuss below, there are good reasons to think that economic activity in China and the US will pick up in the second half of the year. The problem for this view is that bond markets disagree. Interest rates have been falling throughout the year so far. This only makes sense if growth slows from here and central banks are forced to cut rates to react. As an example, bond markets are currently pricing in a 65% probability of a cut in US rates by the end of the year. This means there is a 2 in 3 chance the US economy continues to slow and the US Fed has to cut rates in response. Also, note that central banks have a pretty poor track record in cutting rates fast enough to prevent an economy slipping into a recession so there is a good chance that they do too little too late. For the UK and Europe the picture is if anything bleaker. UK bond markets are saying interest rates are not going above 1.5% ever again. And Europe looks increasingly like Japan where interest rates have been anchored at 0% or close to it since the end of the 1990s. Neither of these markets are telling you that growth will be anything stellar in the next few years.
All this meant that our equity and fixed income investments rose in Q1, helping drive a solid quarter for client returns. Our income focussed alternative assets (including our solar and wind investments) also had a strong Q1 which, after being one of the few sectors to make money in a tricky 2018, was pleasing. Our absolute return assets were mixed. After a profitable December (when equity markets fell around 10%) they were caught out in January as markets again reversed sharply. March was a better month but overall they were down a little for the quarter.
2019 Outlook
How do we square this circle of gloomy bond markets and optimistic equity markets? We have been here before of course, most recently in the first half of 2016 when – just after the Brexit referendum – interest rates sat at lower levels than today but equity markets were equally optimistic. Then, equity markets proved to be the better indicator as growth picked up in 2017 setting the stage for a continued rally in equities.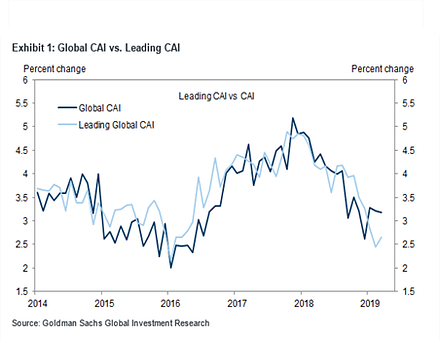 Today, we are reluctant to be that bullish. After 10 years of economic growth since the 2008 recession we are nearer the end of this economic cycle than the beginning. And we are seeing clear evidence of a slowdown. Chart 1 (via Goldman Sachs) shows leading indicators for global growth which have been in a downtrend since early 2018. The lighter line is the more forward looking of the leading indicators and this offers little comfort that the downtrend is over. The Citibank Economic Surprise Index – which shows data releases compared to market expectations ­– is also negative (see Chart 2). So the data is not just bad but worse than fairly muted market expectations. It is this run of poor data that is behind the recent sharp fall in interest rates.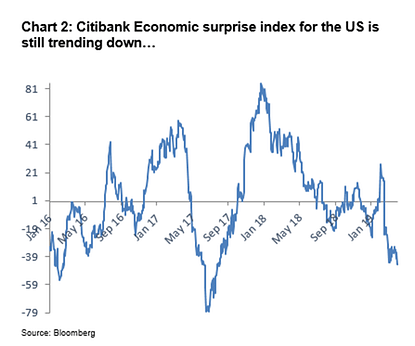 Equity markets may yet be right that we are bottoming, but with this economic trend in place we are reluctant to be too aggressively positioned here. We cut risk in Q4 and have maintained lower risk levels even as the market has rallied. Prudence and a measure of defence seem appropriate here and indeed in Q1 probably our best performing assets (risk-adjusted) were boring old government bonds. We are ready to increase risk levels again but want to see clearer signs – particularly from bond markets – that recession risk is falling not rising.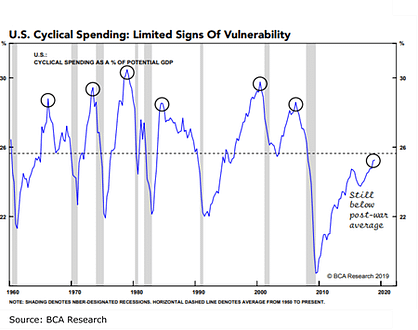 That said there are important reasons not to get too gloomy here. First, many of the tell-tale signs of excess that you tend to see at the end of economic expansions do not look to be flashing warning signs yet. As an example, cyclical spending is still below its post-war average in the US (see Chart 3) and household debt as a percentage of income is 30% below its 2008 levels and is continuing to fall. Corporate credit has, however, been on the rise (see Chart 4) but interest coverage levels are in line with long term averages and the debt to assets ratio looks pretty muted. Putting this together, the US economy looks much more mid-cycle than late cycle based on the metrics that caused the problem in 2008.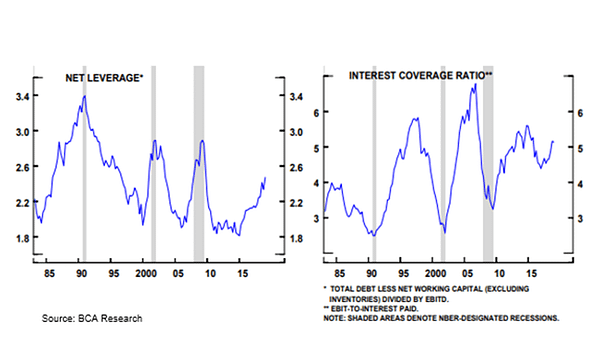 Secondly, even after the recovery in Q1, equity valuations do not look too challenging and – outside of the US – look in line with long term averages and so are consistent with high single digit annualised returns. If timing markets is hard (and it is) then we need to keep some skin in the game of equity markets whatever our longer term views. The fact that equity market valuations look reasonable here helps add to our conviction that this is the right thing to do. Though they will remain volatile, we are optimistic that equities will be able to deliver on your return targets over the longer term. They therefore remain an important component of all our investment portfolios.
Finally, the other economy that really matters for your portfolio returns is China. Here for the last two years the government has been trying to slow the growth of public and private debt. This was a big driver of the slowdown in emerging markets we saw in 2018 (which fell around 30% peak to trough in the year). However, it now looks to have run its course and credit growth is accelerating again as new stimulus measures are put in place. There is cause for some optimism that emerging markets may have a good 2019 led by growth from China. We therefore maintained our emerging market exposure in client portfolios going into 2019 and in Q1 China was our single best performing equity market recovering much of its 2018 losses.
If China and the US continue to be the most important factors behind your portfolio's performance, what of the UK and Brexit? We have little to add here over and above what many of you will probably be all too familiar with. This is all now firmly a political than an economic debate and – in spite of the very small difference in the views of many MPs – the traditionally adversarial UK political model is struggling to find a compromise solution to the most important political decision in a generation. It is not helped that at a time when we could use some strong and decisive leadership from the major two parties it looks to be sorely lacking. As we write, the jury is out on whether they will make it to the finish line but, as have written before, our main aim is to limit your financial exposure to a no deal Brexit. This we do by maintaining material non-sterling investments and by keeping the majority of your equity investments outside of the UK.
Whilst the daily theatrics of the Brexit process look likely to continue we still think it is the business cycle in the US and China that will prove to be the most important driver of your portfolio returns. Here, whilst we are cautiously optimistic that a bottom may be forming and a recession will be avoided, we prefer to be more defensively positioned until we see the data turn.