2022 Q1 Market Commentary
2022 Q1 Market Commentary
When Russia invaded Ukraine on February 24th we wrote a client update saying that although the war would probably drag on with a terrible human cost, the impact on markets would be shorter and sharper. So far (and tragically for Ukraine) this has proven to be the case. Most major markets (apart from Russia of course) are now above where they were the day before Putin invaded.
In spite of this, this was still a difficult quarter for equity and bond markets. Global equities fell -5.4% in US dollar terms (and -2.8% in GBP as weaker sterling offset some of this fall). Fixed income markets also struggled as interest rates rose sharply. At the end of September interest rates were pricing in the UK base interest rate not to rise above 0.5% for the whole of 2022. Today the market thinks we will end the year with a 2% UK base rate, rising to nearly 2.5% in early 2023. We also saw similar sharply higher interest rates expectations in the US and Europe. All this meant a tough quarter for fixed income investments: UK government bonds lost -7.5% with a similar loss for higher quality investment grade corporate bonds.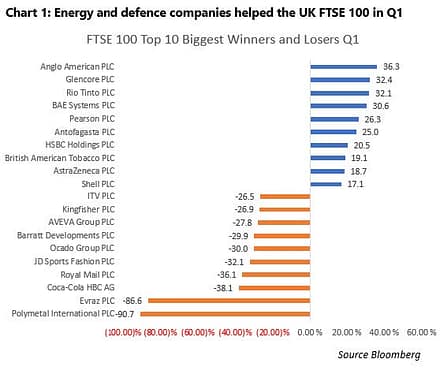 The one bright spot – for a change – was the UK equity market. Here the bias of the FTSE 100 index to energy and mining stocks helped it out-perform. Chart 1 shows the top 10 best and worst performing UK large cap equities for the quarter. The top 3 are mining stocks followed by (unsurprisingly) a defence company. Commodity prices were already rising after years of under-investment. This was partly driven by increasing environmental pressures and partly by the poor economic returns earned by commodity producers over the last few years. Yesterday's under-investment has meant these companies were unable to meet the post-Covid re-opening demand surge without sharply rising prices. Whilst we continue to see this as an investment opportunity (and added a global value play on this theme to portfolios earlier this year) we are still cognisant of the fact that many of the best investing opportunities remain outside of the UK. As an illustration of this, the last 10 years have seen UK equity markets underperform international ones by more than 150% (see Chart 2). Most of the new, technology driven success companies (including, say, Apple, Google and Amazon) have been US based and their success has eaten away at the profit margins of established, old economy players. We think we are only in the middle of this software and technology revolution. We therefore continue to have a significant global equity weighting in our portfolios.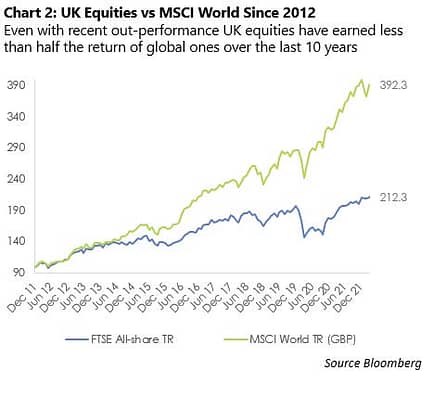 With that said, previous under-investment in energy does mean that higher commodity and energy prices look to be a feature of the next few years rather than a war driven spike. I am afraid I don't have much good news if, like me, you have just received a much higher energy bill. This puts policy makers and central bankers in a difficult position. Rising energy prices are like a tax rise which means we all have less money to spend on the other things we want. This means energy price shocks are both inflationary (pushing interest rates up) and bad for growth (pushing rates down) at the same time. For now, central banks remain focussed on the inflationary part – and we think they will need to see inflation start to fall before they slow down their planned rates rises. Rising interest rates plus higher energy costs will limit consumer spending. Taxes are also expected to rise this year. Can equity markets hold up given this economic outlook?
While these challenges are real, we think there are also some reasons to be optimistic. First, both the consumer and corporates are in good health. Much of the consumer windfalls from the Coronavirus lockdowns and furlough payments were saved and not spent. And net debt for corporates has been falling sharply (see Chart 3). This should mean both are able to withstand rising interest rates more easily.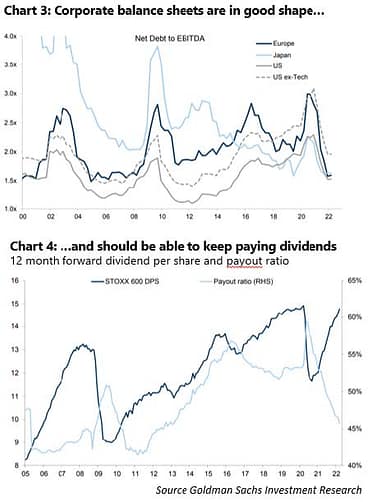 A second point is that equities remain real assets. This means revenues (and costs) rise naturally as inflation rises. The impact on profits will vary by industry but profit growth should be able to beat inflation over the longer run. There is also a good chance that dividend pay-outs will stay strong. Chart 4 shows that even as dividends on European equities have risen the percentage of profits used to pay them has been falling. Inflation protected income (such as corporate dividends) remains a valuable asset today.
Finally, as equities have fallen so far this year they have become cheaper. Chart 5 shows today's valuations compared to the historical average for the last 30 years. European equities are back below their 30th percentile valuation. Even US equities, which today trade at a premium reflecting the stronger earnings growth they have been able to generate, are in line with their long-term averages. We have written in previous overviews about the excess we saw in some of the frothier parts of the market post Covid. Companies like Peloton and Zoom – which were ideally placed for lock down life – saw stratospheric price increases in 2020. As things returned to some semblance of normality last year, so the heat has come out of these more speculative sectors (see Chart 6). Indeed, prices have started to rise again the last few weeks. The bursting of this bubble makes for a safer investing environment more generally.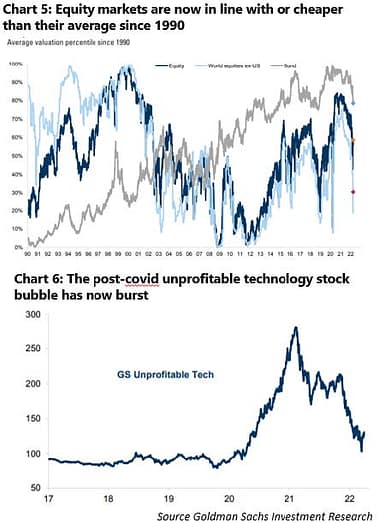 So although inflation, rising interest rates and slowing growth remain a challenge there are plenty of reasons to keep an allocation to equities. That said, we remain on the lookout for good diversifying assets. We have written before about our alternative investments, which essentially give clients ownership of income producing assets which normally give some sort of inflation protection. Examples of these have been renewable energy assets (such as solar and wind farms) and batteries (which are needed by the power grid to store the energy renewables produce). One thing the war in the Ukraine has put front and centre is the importance of European energy independence. Being beholden to the whims of an autocrat in Russia for essential energy supply is not a good place to be for any European country. Renewable energy (and nuclear) has the twin advantages of being locally generated and climate friendly. In the short run, the switch away from Russian gas to renewable energy will keep energy prices higher and so help returns for today's energy producers. In the long run, this sector will become the key source of energy for the UK and Europe. This looks like a real opportunity to us and we will be looking to add renewable focussed assets to your portfolio where we see the opportunity. In addition, this greater tilt towards alternative sources of income should help performance as and when equity markets come under pressure. As equities and fixed income prices have both fallen this year our alternative assets have profited. We think increasing our exposure when and where we can should continue to help client returns for the next few years.
Finally, a word on fixed income. As we and many others have lamented, most fixed income yields have been below inflation in the last few years meaning they fail in doing the job we need them to do. However, we do ultimately expect inflation to fall from today's high levels. The yields available on parts of the corporate debt market have now risen above 5% even as companies' net debt position has improved (Chart 3 again). This means we see more opportunity in this area than we have done for the last few years. Finally, parts of the fixed income market are starting to look attractive again.
Chris Brown
Chief Investment Officer