Market Commentary 9th September 2022
For those that don't know, I am the Chief Investment Officer at IPS Capital. Each week I highlight few things that have come across my desk that I think are interesting and investment related. We always welcome dialogue so if you have any questions for me I'll be happy to answer them too.
First, as you'll know, we have a new prime-minister. One of the quirks of recent politics is that traditional conservative values of keeping the books balanced and fiscal responsibility have been put quietly away in a downstairs cupboard. Instead, Liz Truss is proposing levels of government deficits and support that I don't think any Labour government of the past would have dared to carry out. We will all get to decide if this is indeed the right approach at the next election. Until then, more borrowing and more government support means more pressure on the Bank of England to raise rates. As you can see below, markets now expect the Bank of England to raise rates to over 4% by March next year.
Pretty obviously, this means higher returns on bonds. The outlook for investors that have been starved of income is starting to improve.
UK Interest rates implied by today's bond prices

Source: Bloomberg
But what about inflation? For the UK and Europe the picture is complicated by the impact of higher energy and gas prices and government measures to cap their impact. The US is much less exposed to the Russian energy shock. Here there is market for what investors' think inflation will be over the next 12 months. It is striking that this has fallen from over 6% 6 months ago to 1.7% today. This is below the fed's 2% target! If inflation is the problem then US assets may be a solution. We continue to like US equities and they remain our largest equity exposure.
US Breakeven Inflation rates for the next 12 months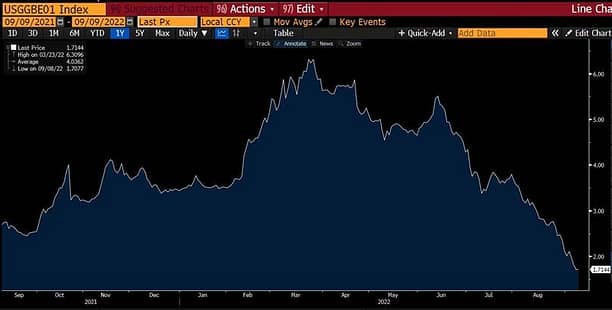 Source: Bloomberg
Finally, how about some good news for the UK economy? First (which I don't think people talk about enough) we have full employment. If you want a job, you can get a job. I have lived through plenty of periods where that was not the case and we shouldn't take it for granted. Secondly, one way to get more growth (and tax income) is to add workers. Immigration is picking up again and you can see the impact in the job growth numbers. You will have your view on the level of immigration that is right for the UK. From a personal perspective I am happy to see that, even after Brexit, we remain open to business from the rest of the world.
The UK workforce is growing again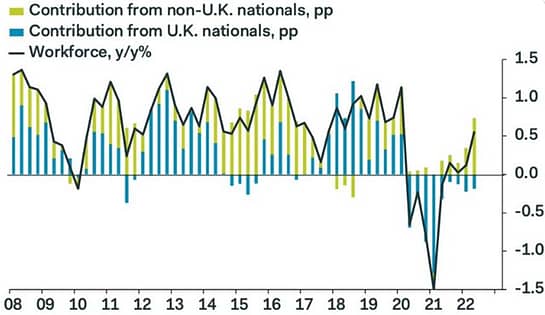 Source: Pantheon Macroeconomics
Chris Brown
CIO
IPS Capital
cbrown@ipscap.com
The value of investments may fall as well as rise and you may not get back all capital invested. Past Performance is not a guide to future performance and should not be relied upon. Nothing in this market commentary should be read as or constitutes investment advice.