Market Commentary 30th September 2022
For those that don't know, I am the Chief Investment Officer at IPS Capital. Each week I highlight few things that have come across my desk that I think are interesting and investment related. We always welcome dialogue so if you have any questions we'll be happy to answer them here too.
This has been a momentous 7 days in markets. It had the feel of the worst weeks of the pandemic in March 2020 or when the Eurozone looked like it might fall apart in 2011. It was also, a couple of weeks ago, the 14th anniversary of the collapse of Lehman. We are not close to anything like a Lehman moment yet but the Bank of England intervening in markets to bail out UK pension funds and insurers felt eerily familiar. We wrote a more detailed client note on market events which I hope many of you will have received. If not, please let us know and can send it over or it is up on our website in the news section.
Our client note goes over our portfolios and the outlook for them. I will not redo that here but (as a reminder to myself if nothing else) there is a saying in markets, that the worse you feel about your short term returns the better you should feel about your longer term returns. It certainly feels like that to me today. Again as a reminder to myself: equity markets were up 12 months after all the crises I mention above.
Bond markets
It is bond markets where the recent moves have been most dramatic. The chart below is of monthly returns from the US high quality (investment grade) bond index. The September return is on the left with the hand-drawn arrow pointing at it.

Source: Guy LeBas, Bloomberg
This means large losses today which are, unhappily, hitting the conservative investors hardest. The good news I have for them is that at the start of the year, UK investment grade bonds were yielding under 2% with longer term (5 year) expected CPI inflation at 3%. Today yields are over 6% and longer term expected inflation has not changed. The job of beating inflation without taking too much risk looks achievable to us today. It has been a long time since I have been able to write those words.
UK Mortgages
Higher interest rates mean higher mortgages rates. We estimate that the cost of a standard repayment mortgage rises 45% if interest rate move from 1.5% to 5% (which is a decent estimate of where the 5 year fixed market is today). Interest only mortgages more than triple of course. This implies UK house prices need to fall at least 30% to be consistent with mortgage affordability today. How likely is this to happen? My guess is we will see falls but, given the impact this will have on the broader economy, interest rates will inevitably fall too. All this implies a recession next year. The only question for us is how deep it is and where the opportunities might lie.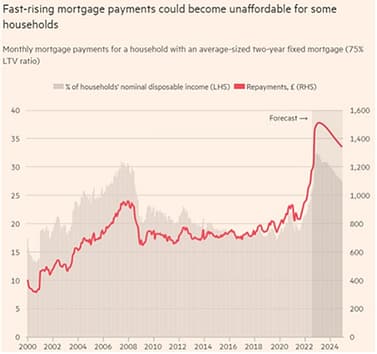 Source: Financial Times
The British Pound
The final part of the week's drama was the collapse in the pound. The first thing I would note is that, as at this morning, the pound is back (nearly) to where we were before the UK budget announcement. It could be the Bank of England's intervention has helped calm the panic. It is also worth noting that the sharply higher interest rates we have seen (which are of course pushing mortgage rates higher) should help attract foreign investors and push the pound higher.
GBP vs the USD over last 7 business days: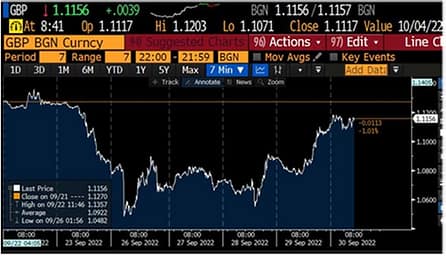 Source: Financial Times
Chris Brown
CIO
IPS Capital
cbrown@ipscap.com
The value of investments may fall as well as rise and you may not get back all capital invested. Past Performance is not a guide to future performance and should not be relied upon. Nothing in this market commentary should be read as or constitutes investment advice.