Market Commentary 4th November 2022
For those that don't know, I head the investment team at IPS Capital. Each week I highlight a few things that have come across my desk that I think are interesting and investment related. We always welcome dialogue so if you have any questions we'll be happy to answer them here too.
This week, some advice on exercise equipment and furniture, which is why I know you all read this note. But before you can have dessert you have to eat your vegetables. So we start with a round up of markets this week and particularly where bank base rates are headed.
UK bank base rates rose to 3.00% on Thursday after US rates had risen to 3.75% the day before. None of this was a surprise but the tone from the two central banks was different. The US economy remains pretty healthy so the US Fed was warning that rates might have to go higher than they had thought previously. This warning meant the S&P 500 fell almost 5% from its highs in the hours after the announcement (although it is still up 4% for the quarter so far).
For the UK, the messaging was more mixed. As we have written before, the UK is more sensitive to rising rates because around 30% of its mortgage borrowers are either on floating rate deals or about to roll off their fixed deal in the next 12 months. The UK is also recovering from the 50 days of Liz Truss. The messaging was therefore less tough. As you can see below, UK bank base rates are expected to peak at around 4.50% to 4.75% in the middle of next year. This compares to a peak of 6.25% or so expected in the week after the September mini-budget. The relief in UK markets is palpable. Our two best performing investments for the quarter are UK focussed equity funds.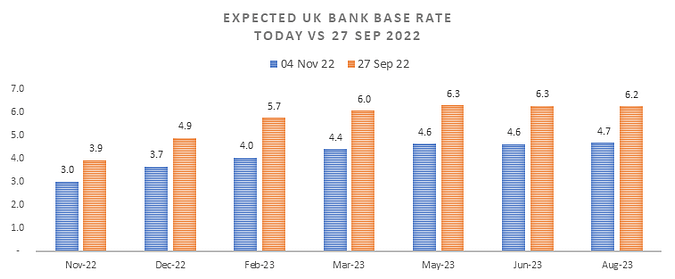 Exercise and Furniture
This week, Peloton, the virtual exercise equipment company announced its results. They were not good. I mention this because the air really has come out of the speculative technology bubble that was all the rage for the last few years. As an illustration, below is an index created by Goldman Sachs of non-profitable (which often means growing fast) tech companies. If you had invested in Zoom, Peloton and the like at just the right time (3 years ago or just before the Covid pandemic) you would be flat today. You would have had quite the journey though: quadrupling your money in the 12 months after the outbreak of covid, then losing all your gains over the next 18 months. The main US market (which, unlike these tech names, we do own) is up 26% over that period (in dollars) for comparison.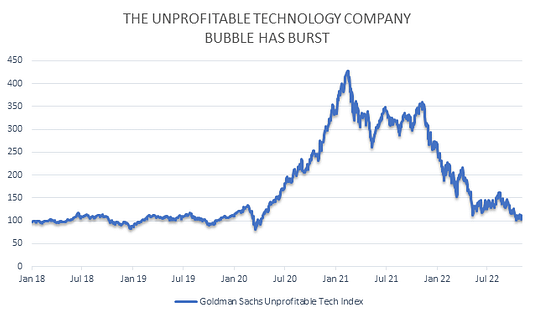 Peloton is also drowning in inventory. It has a valuation of $3.1bn today but is sitting on $1.1bn of inventory. If there is anyone (anyone?) who hasn't made their home exercise equipment purchases yet we think there might be a sale on soon.
The same may also be true for furniture. We have shown before charts of the pricing of shipping containers from Asia to Europe and the US. These continue to plummet. Furniture takes up a lot of space in a container (compared to, say, a phone) and is particularly sensitive to shipping rates. As rates rose, so did prices as post-Covid home upgrade demand remained strong. Now we are seeing falling demand (as people pay higher mortgage rates) just as a wave of cheaper supply hits the market. A contact of ours in the industry says he expects prices to remain firm into year end but, after that, there will be a "blood bath" in prices as new (cheaper to transport) supply hits the market. If you are looking to buy furniture, you might want to wait for the January sales.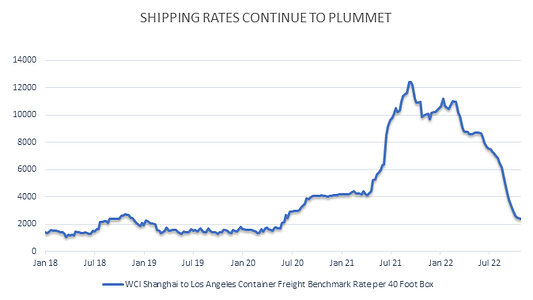 Chris Brown
CIO
IPS Capital
cbrown@ipscap.com
The value of investments may fall as well as rise and you may not get back all capital invested. Past Performance is not a guide to future performance and should not be relied upon. Nothing in this market commentary should be read as or constitutes investment advice.