Market Commentary 25th November 2022
For those that don't know, I head the investment team at IPS Capital. Each week I highlight a few things that have come across my desk that I think are interesting and investment related. We always welcome dialogue so if you have any questions we'll be happy to answer them here too.
Happy Thanksgiving to those that observe it. If this note were on Tiktok, I would be videoing my 10 rules for investing while dancing round the room to Taylor Swift in front of a Turkey. But, mercifully, it isn't. Instead there is some text (and pictures) on the recovery we have seen this quarter in UK and European markets. If you make it through that, Bob Farrell's 10 rules – which are always worth re-reading and remembering – are at the end.
There has been a bounce so far this quarter. These sorts of things are pretty normal in bear markets but, of course, every bear market ends with a bounce that turns into something more sustained. One interesting thing is that it is assets where the gloom was at its peak that have bounced the most, including UK and European equities. One trigger is the mild start to the winter which has eased the pressure on energy prices and supply. Another is that the UK and European economies have remained (so far) surprisingly strong.
As an illustration of this, below is the UK unemployment rate and wage growth when compared to the US. If you had visitors landing from Mars and you forwarded them this e-mail and they were able to translate it into Martian, the first thing they would notice is that unemployment spiked much higher in the US after the pandemic. But this is just the difference between letting people lose their job and sending them a monthly cheque – the US approach ­– compared to keeping people in their job and sending the cheque to their employer, as we did in the UK with the furlough scheme. After this the recoveries and labour markets look very similar. The UK economy (today) is very strong with unemployment still below 4%. This is the main reason why UK interest rates are expected to go up by 0.5% this month and peak at 4.5% in May next year.
The UK labour market is hot
Source: Goldman Sachs
This strength is of course a good thing: whatever problems the UK and Europe faces today at least (more or less) everyone has a job. You would also rather be facing the coming interest rate and energy price rises from this position than something weaker.
But what has been driving this? One surprising piece of data came from the UK's Office of National Statistics (ONS) this week. Net immigration is currently running at over 500,000 people per year. You may think this is a surprising number given the impact of Brexit, but Europeans are (very marginally) leaving the UK. They are being replaced by the rest of the world. A large part of this is international students coming back to the UK so this should prove to be a one-off bump. But still these students come, rent flats and spend money. They are a boost to the economy and spending.
Net migration of non-EU, EU and British Nationals in the UK
Source: ONS
Can this last? This is the time of year when investment banks and research firms publish their 2023 outlook pieces. The general consensus is it won't last. Rising interest rates will slowly choke demand and put pressure on earnings and hence equity prices. I would offer you a few points of consolation here as an investor. First, unlike a year ago, bonds now offer attractive returns and may actually do the job of cushioning against further equity market weakness. Second, outside of the US, equity valuations look pretty reasonable. The UK – up most this quarter – is downright cheap!
20 year valuation ranges by region (12 month forward p/e)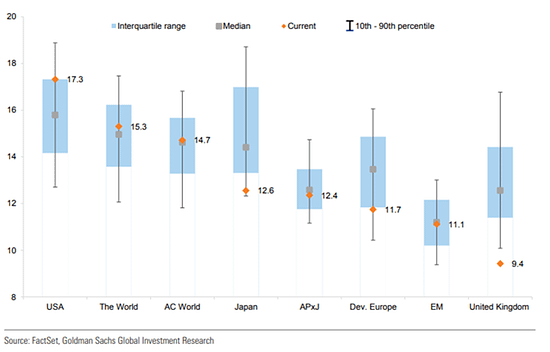 Finally, we talked last week about the rule of thumb to do the opposite of whatever you see on an Economist front cover. Bob Farrell was a legendary Merrill Lynch investment analyst. He came up with 10 rules of investing which I finish with below. Note number 9: When all the experts and forecasts agree –something else is going to happen. The experts and forecast feel pretty similar to me. We will see if they are right.
Bob Farrell's 10 rules:
Markets tend to return to the mean over time
Excesses in one direction will lead to an opposite excess in the other direction
There are no new eras — excesses are never permanent
Exponential rapidly rising or falling markets usually go further than you think, but they do not correct by going sideways
The public buys the most at the top and the least at the bottom
Fear and greed are stronger than long-term resolve
Markets are strongest when they are broad and weakest when they narrow to a handful of blue-chip names
Bear markets have three stages — sharp down, reflexive rebound and a drawn-out fundamental downtrend
When all the experts and forecasts agree — something else is going to happen
Bull markets are more fun than bear markets
Chris Brown
CIO
IPS Capital
cbrown@ipscap.com
The value of investments may fall as well as rise and you may not get back all capital invested. Past Performance is not a guide to future performance and should not be relied upon. Nothing in this market commentary should be read as or constitutes investment advice.